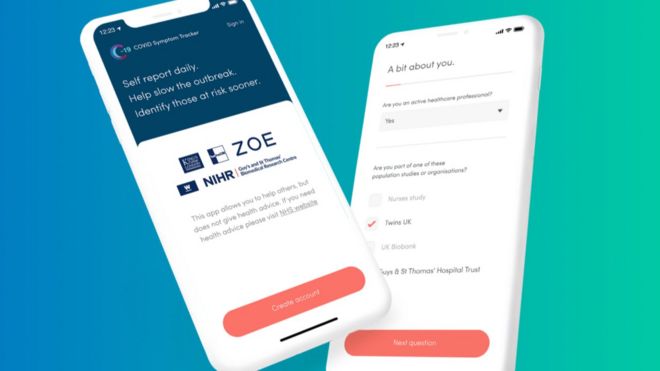 An app that is said to track the symptoms of Corona Virus in the UK has topped the charts, and has currently reaching close to  million downloads and has become exceedingly popular.
In creating the app, the creators had in mind major things the app is supposed to be able to do.
The app is supposed to explain why, and the categories of people that are affected by the virus and why some are more affected than others.
The app is also to show outbreaks of the virus where it is currently happening as well as the spreading rates and also to distinguish the virus symptoms from a regular common cold.
Apparently it is not the only "supposed" tracking app. They are a lot of fakes out there, and experts have advised that users should be cautious of which one they download.
Within just three days of its creation it was able to reach 750,000 downloads according to its developers, and has an installment rate of 50,000 an hour.
It was created by researchers at Guy's & St Thomas' hospitals and King's College London university, in conjunction with the nutrition advice start-up Zoe.
The app is the intellectual property of Prof Tim Spector who is a Genetic epidemiologist, and has been a specialist in the genetics and medical histories of twins for the past 25 years.
In his opinion, "The NHS hasn't come up with a better alternative and this app seems to be working. We are hoping to get to one million downloads by the end of the day and we will also be ready to release data by then for the NHS, data modellers and researchers to play with".
The app would require its users to share personal details, including their age, height and medical history. It asks people to describe symptoms, if they have any, on a daily basis as well as to give a temperature reading.
Prof Spector said it could potentially help the NHS:
learn how fast the virus is spreading in a particular area, as well as highlighting high-risk parts of the country
better understand the symptoms, including the differences between those of the virus and the common cold
explain why some people develop a mild illness while others become critically unwell