Google Calendar is one tool that has been set up to make life easier for its users, especially as it helps in organizing events and schedules
For anyone who wishes to maximize his/her day well, then using a Google Calendar is the best way to achieve that. Are you wondering how you can use easily use and get acquitted with your Google Calendar? Then, this article right here is for you. Relax and read through.
WHAT IS GOOGLE CALENDAR ALL ABOUT?
Google Calendar is a time management and scheduling tool that was created by Google. With Google Calendar, a user can book appointments, organize their daily tasks, schedule remote meetings, etc. Google Calendar is divided into two tools that serve all the purposes. They are:
 1. Time Management Tool: This tool is primarily to help users simplify and plan their busy schedules appropriately. In fact, users can schedule Google Hangout calls with the click of a button while also scheduling a remote meeting.
 2. Personal Calendar: This tool is used to coordinate meetings and highlight payment schedules. As of now, most people use it to coordinate meetings with vendors and also for wedding planning. Regardless, it is still very useful for work-related needs.
To view all upcoming events, all the user has to do is either type "what's my Google Calendar" or "what is google calendar.
To enjoy Google Calendar, you have to create a Gmail account. If you already have one, then you can just sign in. Once you are logged into your Google account, click on the Apps icon on the upper right corner of your browser to find the calendar.
20 DIFFERENT WAYS TO ENJOY USING GOOGLE CALENDAR
GOOGLE CALENDAR SYNC
Would you like to synchronize all your calendar in Google Calendar? Would you like to see all your event in one calendar? Then go through these steps. What Google Calendar Sync does is to help you get a clear picture of what your schedule is like. It does this by bringing together all the events saved on the calendar. You can even sync both your personal and work calendar.
Here are the simple steps to easily allow you to use Google Calendar Sync.
Open Google Calendar
Click the "Settings menu" gear, then "Settings"
Scroll to "Import & Export"
Export your calendar
Then head into your main calendar
Click the "Settings menu" gear, then "Settings
Scroll to "Import & Export"
And Import your calendar
ALSO READ: Google Calendar Can Now Guess Your Working Hours
HOW TO VIEW YOUR COLLEAGUES' CALENDARS
This is majorly for those who work in mid-sized or large companies. You might need to call for a meeting with different people and also want to know their schedule in order to pick a favorable time for everyone to attend the meeting. This might require you to know how to view your colleagues' calendars.
These simple steps would guide you through;
Open Google Calendar
On the left-hand side, type your coworker's email under "Add calendar"
You'll need to request permission to view their calendar. However, once it's accepted, you'll be able to view your colleagues' calendars
CREATE A GOOGLE HANGOUTS LINK FOR REMOTE MEETINGS
Creating a link for remote meetings is an extra step better than just scheduling a meeting. All you have to do is add a Google Hangouts link that the people invited to the meeting can easily click on to attend. Creating this link would save you the stress of sending the link personally to those you have the meeting with.
Sounds like something you want to try? Here are steps to take
Sign in to your calendar
Create an Event, click "More options
Under "Add conferencing" click "Hangouts
Complete the rest of your event details and save
4. CHANGE YOUR GOOGLE CALENDAR VIEW – DAY, WEEK, MONTH, YEAR
This is for those who have a lot of events and need to sort them out to make it easy to remember. If your events are every day, then you can activate the day view, if your events are not so jam-packed, you can use a monthly view, depending on which you find comfortable.
Follow these steps to set it rolling
Open Google Calendar
Beside the Settings menu gear, click on the dropdown (Day, Week, Month, etc.)
Choose the setting you'd like to view your calendar in
You can also choose to show weekends or not
5. SET EVENT AUTO REMINDERS
You can set reminders to remind you days before an event of before a deadline. It will help to keep you on track with timing and deliverables.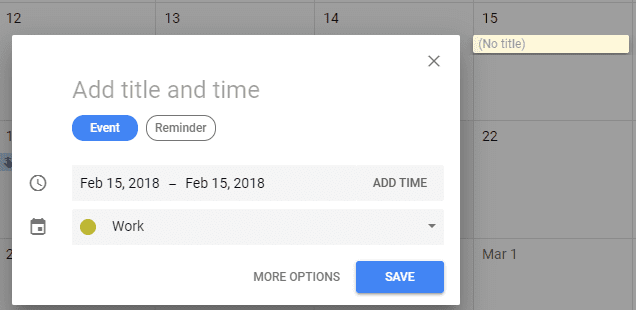 Here are the steps to follow:
Sign-in
Click the "Setting menus" gear and then Settings
Scroll down to "Settings for my calendars" and click on your calendar
Scroll down to "Event notifications"
Choose how much notice you need prior to events: minutes, hours, days, weeks
Choose whether you'd like to receive a notification or an email
DRAG AND DROP MULTIPLE DAY EVENTS
If you have a conference or an event that runs for more than a day, you might just need it to help you organize your schedule all through the days of the event.
Here are steps to follow
Sign into Google Calendar
Using your mouse or cursor, slide over the dates you'd like to add an Event on
A pop-up will appear allowing you to fill in your event details
CREATE AUTOMATIC EVENTS IN GMAIL
Once you receive a mail inviting you for anything, an event will automatically be added to your calendar. There are no steps because it is automatic, but it is advisable that the emails should be sent to the email account that has your daily calendar.
ADDING FACEBOOK EVENTS TO GOOGLE CALENDAR
The time management tool is not expected to be used for office work alone. It can also be used for personal reasons such as setting birthdays. Since Facebook usually sends notifications of friends' birthday, you can add your Facebook events to your Google Camera.
Here are steps to follow
Facebook, go to your Eventspage
On the bottom right-hand side you'll see an "Upcoming Events" and "Birthdays" link
Click on the one you want to import, a file download will appear
In Google Calendar, go to your Calendar and click "Settings and sharing"
Under "Import and Export," drag and drop the file and click "Import"
9. GET YOUR DAILY AGENDA EMAILED TO YOU
If you would like to receive daily agenda of what your day will look like. An agenda that states all your tasks and events for the day,
Here are steps to follow
Open Google Calendar
Click the "Settings menu" gear, then "Settings"
Click on your calendar under "Settings for my calendars"
Next, scroll down to "General notifications"
Under "Daily agenda" choose "Email"
Emails will be sent to the email your calendar is on
10. ADD RELIGIOUS AND NATIONAL HOLIDAYS IN GOOGLE CALENDAR
When you first start using the calendar, you will most likely find Christian holidays. Good thing is, you can always change the holiday and add holidays as much as you want.
Interested? Here are steps to take
Sign into Google Calendar
Under "My calendars" click the three dots beside your calendar (you'll need to hover over it to see it)
Next, click "Settings and sharing"
Under "Add calendar" click "Browse calendars of interest"
Click the box for the religion you'd like to add to your calendar
You can also choose to preview the holidays instead if you'd like
11. SHOW WORLD CLOCK
If you travel out of the country frequently, you might want to add a World Clock in your Google Calendar. The good thing about having a World Clock on your calendar is that it allows you schedule events in different time zones. Amusingly, it would still allow others view it in their own time zones.
I'm pretty sure you are interested, so follow these steps
Log into your calendar
Click "Settings" under the "Settings menu" gear
Check the "Show world clock" box
12. ADD TASKS TO GOOGLE CALENDER
If you are the time who loves creating To Do Lists, then life just got better for you. You can include your daily tasks into your calendar and this would make it easier to remember every little detail you need to per time.
Here are simple steps to make you achieve this
Open Google Calendar
On the right-hand side, click Tasks
Then click "Get started" button
Click "Add a task"
Then, type your task into the box
Under the pencil icon, you'll be able to add due dates and sub-tasks for individual projects
13. EMBED YOUR CALENDAR INTO YOUR WEBSITE
For business entrepreneurs who hope to gain their businesses, this feature is a good way to go. You can embed your calendar on your website and by that, potential clients can schedule meetings with you by just clicking on your website.
Here are steps to follow
In Google Calendar, click on Settings under the Gear
Scroll to "Settings for my calendars" on the left-hand side and choose the calendar you want to embed
Scroll down to "Integrate calendar"
Copy the code in "Embed code"
Paste the code on the page or section of your website you'd like it to be seen
Don't forget to Save the webpage
14. SET YOUR WORKING HOURS IN GOOGLE CALENDAR
While linking your calendar to your website as a business person, you might also need to put boundaries to how meetings are scheduled. To do this, you can input your working hours on that calendar so that meetings won't be set at awkward times.
The steps are simple, just follow them below
In your calendar, click the gear icon "Settings menu"
Scroll down to "Working Hours"
Click on the day(s) of the week that you work
Set the working hours for each work day
15. HIDE YOUR GUEST LIST IN GOOGLE CALENDAR
You can hide the list of your guests if you are holding a confidential meeting. So, no other person has access to that information.
To activate this, follow these steps
Sign into your calendar
Create an event
On the right-hand side, under "Guests can:" un-check "See guest list"
HOW TO SHARE GOOGLE CALENDAR
If you want to reach an agreement on a meeting time, you can share your calendar by following these steps
The steps are
Open Google Calendar from your computer (not the app)
Under "My calendars," pick the calendar you want to share and click the three dots
Then, click "Settings and sharing"
Under "Access Permissions," you can either make your calendar public or send someone a shareable link to your calendar
If you only want to send it to a specific individual, you'll find "Specific Individuals" below where you'll be able to add the individual's email address
17. ADD ATTACHMENTS TO GOOGLE CALENDAR
If you need everyone at a meeting to have access to a document, you can attach it to the invite of the meeting.
Here is how to do it
Open your time-management tool
Click on the day you want to create an event on
Click on the paperclip icon to add your attachment
If the attachment is on Google Drive, you can search for it in the search box
Otherwise, click Upload to add a file from your computer
18. GOOGLE CALENDAR NOTIFICATIONS: ENABLE, CHANGE, OR TURN OFF NOTIFICATIONS
You have three options to choose from when it comes to Google Calendar Notifications. You can off, Desktop notifications, and Alerts. You can also change your notification settings under
Settings > Event Settings > Notifications.
Off: Turns off all notification
Desktop notifications: Sends notifications on your Chrome or Mac OS browser prior to a meeting
Alerts: Sends notifications on the browser where your calendar is open
19. GOOGLE CALENDAR CHROME EXTENSION
You can add a Google Chrome Extension to your browser. This would help you view your calendar quickly. You can also add events while browsing an event page online.
20. HOW TO SYNC GOOGLE CALENDAR WITH IPHONE
If you would love to sync your Google Calendar on your iPhone, here are the steps to follow
Open your Settings
Click on Accounts & Passwords
Click Add Account: Google
Type in your email address then click Next
Type in your password then click Next
Sync your calendar events, contacts, and emails
Your iPhone calendar will now show all your events
If you learn how to use your Google Calendar effectively, then you will be able to manage your time and work in general very well.
With the world becoming digital, it is only important that you are on top of your game, especially career-wise. With these different ways to maximize Google Calendar that you have learned, then you should be able to do things easier and faster.