WhatsApp comes with a ton of great features that make it the go-to messaging app for millions of people around the world
Among these is the ingeniously simple Read Receipts that let you know your message has been viewed. If you want to read a message without alerting the sender, however, there are simple tricks you to perform.
How to read messages without the sender knowing for IOS users
1. The first thing you need to do is to wait for the message to arrive on your phone. Once it does, it will show a notification on your lock screen.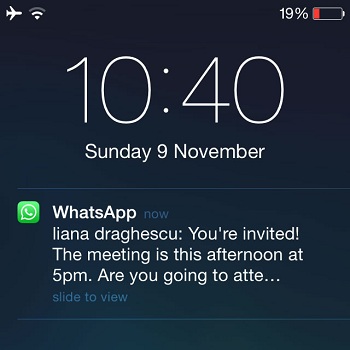 2. Drag the message on your screen a little bit longer than usual, so the full text can appear. You can scroll up and down the message in full, even if it's very long.
Doing this, won't trigger the blue ticks. Note that swiping away your notification won't let you snoop to the text.
Apple iPhones that are capable of doing this are iPhone 6S and 6S Plus, iPhone SE, iPhone 7 and 7 Plus, iPhone 8 and 8 Plus, iPhone X, iPhone XS, XS Max, and XR, iPhone 11, 11 Pro and 11 Pro Max.
For Andriod Phones:
You drag down the notification bar and turn on the Airplane Mode
2. Once that is done, use the WhatsApp in Airplane Mode.
3. Then you disable your Read Receipts: To disable read receipt on WhatsApp, go to the WhatsApp Settings and tap on Accounts. Once this is done, tap on the Privacy option and untick Read receipts.
4. WhatsApp Pop-ups: In order to enable WhatsApp Pop-ups, open WhatsApp settings, and select Notifications before tapping on the Pop-up Notification option to get started.
5. Use WhatsApp Widget as this will let you see notifications/messages without even opening the app. It can be used on the home screen of Android smartphones.
Once you can follow the above instructions, no one will be able to guess you have read their messages.