KaiOS as of now is ranked as the third most popular Operating System (OS), and at that, the company is working towards making it even better
It is a great journey for KaiOS so far, as it currently runs on more than 100 million next-gen featurephones which are considered as a tipster to its ambitious goal of reaching a billion users in the coming years. While the company has been able to show signs of sustainability, it was able to garner a new round of investment funding sometime last month from the likes of TCL and Google who may have seen a great potential rather than a mere startup.
While Google has always been a major supporter of the OS right from the onset, offering it support for some of its products including Search, Maps, and YouTube, it has chosen to become the software backbone in a way, hence the recent investment funding.
Also, while the partnership is not limited to Google alone, the company has already partnered with other big names like Facebook and Qualcomm and is looking to branch out to different form factors and markets in 2019.
Now the company is aiming even further, and its next target was detailed by the brand's CEO, Sebastien Codeville. In his statement, he affirmed that the company's vision for the coming year will include optimizing the performance on existing lower-end devices, while he also specified that the software engineers are hard at work on adding multitasking and tabbed browsing for better user experience and more smartphone-like utility.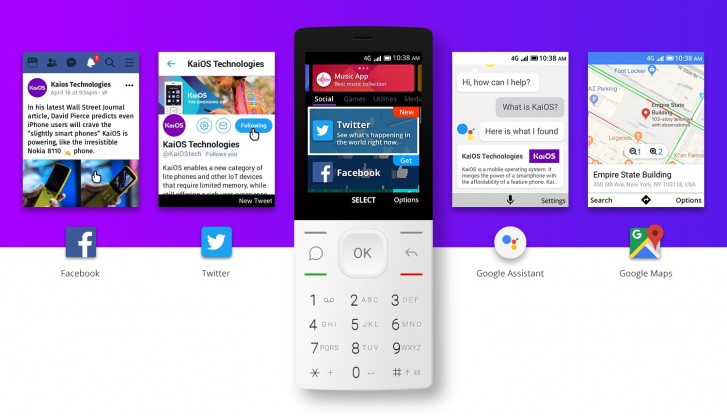 Furthermore, he stretched the effort that his engineering team is putting together to integrate the copy and paste functionality on its platform. As a matter of fact, the feature has remained one of the highly requested for so far and moving forward, Codeville assures of its availability in the next software update.
In addition, KaiOS is also working on new machine learning projects with its key partners which will aim to improve device performance, photography and security. The company is planning to release its software on new form-factors with more advanced services coming in the second half of 2019.
While the discussion does not exclude the market availability, Codeville informed that the KaiOS will arrive at more countries with a major focus in Africa and the Middle East regions. Also, Latin American countries and certain markets in Asia will be reached in the third quarter of this year.
In addition to that, "Brazil and Mexico will see their first KaiOS phone launches this summer and users in the US will also have the opportunity to buy a smarter featurephone in the coming months." Codeville told.
About KaiOS
KaiOS is a mobile operating system based on Linux. It is forked from B2G, an open source community-driven successor of Firefox OS which was discontinued by Mozilla in 2016. The OS was thereafter launched as KaiOS in the year 2017, and it has maintained a third position in the league of the most popular mobile OS.