Yes! you heard mt right, Nike has finally gone really wild about their self-lacing shoe concept, and it is mind blowing
The sport-oriented shoe brand has taking shoemaking to the next level, and you won't find it any easy to believe what they just turned a sneaker into; hi-tech smart wear, or should I simply call it a device. Just about two years ago, the company introduced the first self-lacing shoe, and that marks the beginning of the journey for Nike's hi-tech sneaker.
A little above two years ago, sometimes around 2016, the self-lacing shoe which happens to be the first of its kind came in as a huge surprise to many of us, and most importantly, it looks like one of those many innovations that appear to be non-sustainable, however, Nike has just proven everyone wrong by unveiling the third series of its self-lacing shoe, an 'Adapt BB', Nike's new self-lacing, Bluetooth-enabled sneakers and it promises to retail on a very large scale. While the first series wasn't really a huge success, the second series had a fair sales in the market, but for some smart reasons, the third series packs a lot of potentials to make a massive sales in the market.
Just like I said from the beginning of this article, the self-lacing shoe is rather a smart device than just an ordinary sneaker; at this point, you would wonder why I refer to the shoe as a device. The Nike sneaker, other than having two buttons that help to loosen and tightens the shoe; it also has a Bluetooth feature that allows you to connect to a dedicated-app that can be used to control the sneaker without having to touch the buttons on the side of the shoe.
By now I am sure you would be wondering how the shoe gets powered. Interestingly, the doesn't require a cable to get charged, as it is been powered via a wireless charging pad. Wow, indeed a smart device. As funny as this sound, you simply just pull off your shoe and place it on a pad that looks like a scale until it is fully charged. While there is no indicator on the shoe to tell you that the battery is low, you can check your battery life on the dedicated-app on your smartphone.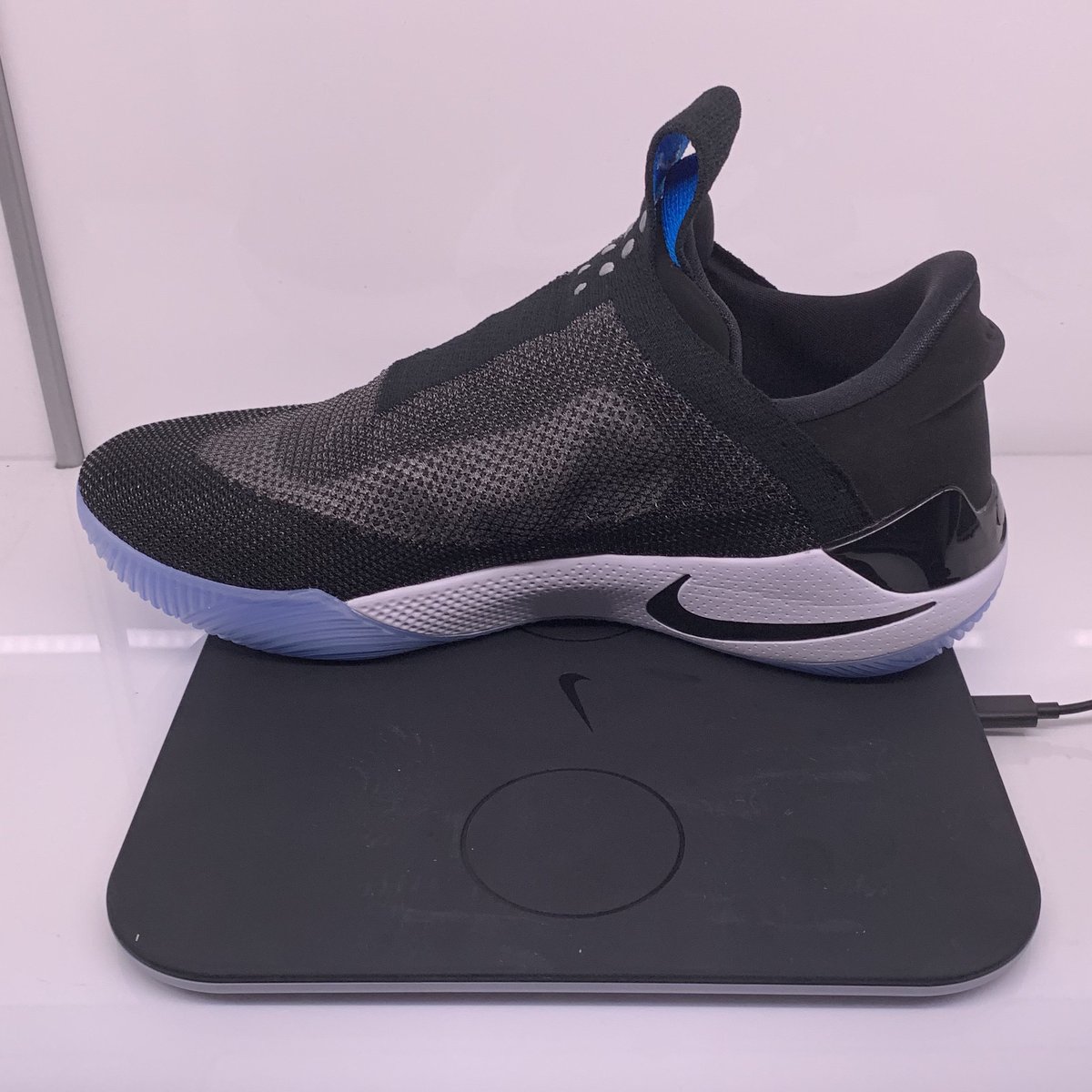 These new shoes are indeed "smart,", however, not in the most obvious sense. Right now, they don't even track steps or activity levels. They just tighten and loosen at the tap of an app, or whenever someone sticks their feet inside them. Yes! the shoe also can detect if a foot is in a tightens by itself, although you can have that changed using the app.
"What we wanted to do was solve something that we knew consumers wanted first as a problem because we look at things like step counting and activity tracking as easy things to add around that, but it's not necessarily the reason you would go out and buy the shoe," says Jordan Rice, senior director in Smart Systems Engineering at Nike.
It's still unclear how Nike wants its customers to blend into wearing a rechargeable sneaker, but it definitely not a hard task for the world's largest apparel maker. Also, the price tag for the smart device, I mean the sneaker is still not known, but trust me it's not going to come very cheap, well, not for most people.