The Ogun state government kicks off with an initiative to ensure that students within the state continue learning while they stay at home
In compliance with the restriction order enforced by the government in a bid to stop the coronavirus spread schools among other institutions have been forced into a temporary halt.
The governor of Ogun state, Dr. Dapo Abiodun, announced – on Tuesday, 24th of March 2020, via a twitter post – that tutorials will be televised on the Ogun state television channel for primary and secondary level students to compensate for time lost as a result of the restriction order placed on schools among other institutions.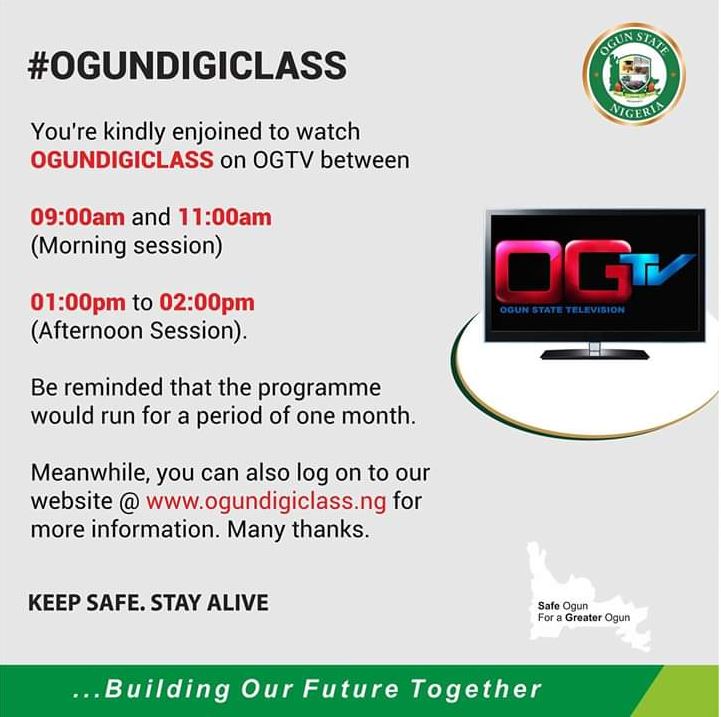 Considering that students might be away from school for a significant period and will most likely resort to binging on Netflix, and long hours of playing video games to keep themselves engaged, this initiative from the government is fitting as it will help the students maintain a balance between learning and leisure, ensuring that students remain sharp and ready to commence academic work as soon as the restriction order is lifted.
However, the government might be faced with some challenges as regards the execution of this initiative across regions within the state, one major challenge is the distribution of electricity.
Based on research published by the Federal Ministry of Education in 2016, The state has a total of 268,707 Junior Secondary school students, 232,494 Senior Secondary students, and 990,217 primary school pupils. These figures are expected to have gone up in the past three years.
The pupils are spread across the rural and urban areas of the state. Although, the state is known to have a considerably, steady power supply, pupils in rural areas might be getting less value from the initiative as a result of unsteady power supply in their regions.
A possible solution as suggested by @olajideobe who responded to the governor's post will be for the government to strike a deal with the IBEDC to ensure power stability across the state during the 3 hours runtime of the OgunDigiClass. Another method would be to adjust the program to fit the times of day when most parts of the state have power.
Another challenge will be the varying interests of the students themselves. Based on the post from the governor we are not told if students will be notified when their preferred courses will be televised. Students were only prompted to tune in to the station from 9:00 am-11:00 am for the morning session and 1:00 pm-2:00 pm for the afternoon session.
While the effectiveness of the program has been hampered by poor power supply since the initiative kicked off, interested pupils have been given the alternative of viewing the general session which is usually uploaded to the website.