Snapchat has just introduced two new lenses in a bid to encourage social distancing
These features were created in collaboration with the World Health Organization to help users stay safe during this pandemic; the first lens is labeled "My Social Distance"- allows users to create an AR circle on the ground which helps capture the two-meter space recommended by WHO.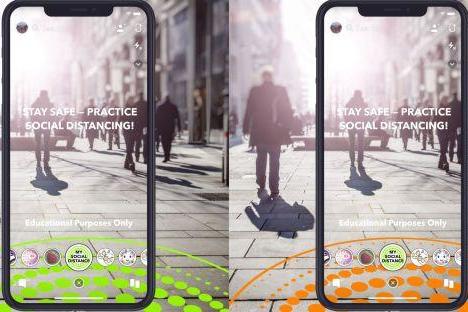 Here's how it works – On the phone camera, the user would see a circle around him/her. That circle is colored green and would remain like that if there is no one close by. Once it sights someone getting too close, the circle turns red.
The second lens, on the other hand, comes with an animation that reminds Snapchat users of the importance of;
a. Washing their hands
b. avoiding touching their faces
c. staying at home.
These two lenses link to WHO's website for the sake of those who need further advice. The link provides additional safety tips. Before now, there has been coronavirus- related update from Snapchat. Others include mental health resources and social distancing-friendly Bitmoji.
A spokesperson for Snap said that "We believe that Snapchatters play a critical role in stopping the spread of the virus.
He further mentioned that "We're working closely with the WHO and the Centers for Disease Control and Prevention to ensure Snapchatters have all the latest information from the experts themselves.
Following the new features Snapchat has been introducing, it is apparent that the company is making unrelenting effort to support the fight against this global pandemic.