What else would you call a device with the capability of shooting an 8K video? certainly nothing short of a 'work station'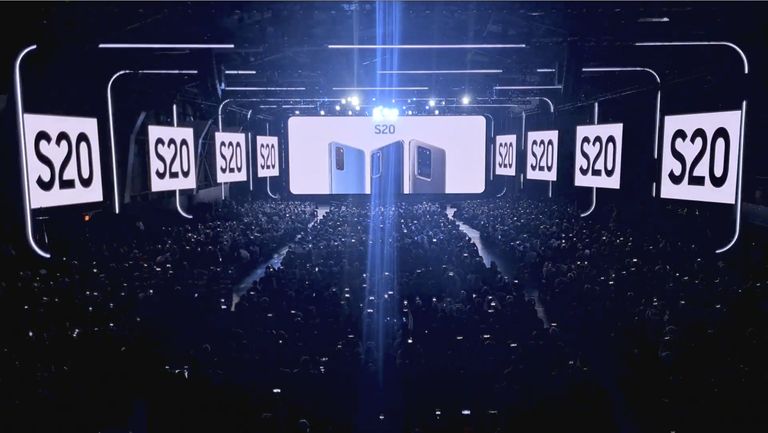 Well, if you don't perceive that to be as sarcastic as it sounds, then we might just be on the same page. The Samsung Galaxy S20 was launched alongside some other devices including the Samsung Galaxy Z-flips at the first edition of the Galaxy Unpacked event 2020 held on the 11th of February, and it boasts of some of the latest technology you would ever find on a mobile device yet.
First off, the smartphone comes in three variants- the S20, S20+ and the S20 Ultra which is apparently the most expensive of the trio at a starting price of $1,399. The S20 and the S20+ will both start at $999 and $1,199 respectively, although the price could vary depending on the specs (storage space).
Talking about the device, if you are yet to know; the S20 basically doubles as the Galaxy S11 (assuming you are wondering why the brand omitted the double digits preceding the S20). Just on the contrary to what many were expecting, the Samsung brand has chosen to break out of its known 'naming' tradition for the sake of its latest flagship device- the S20 series, most likely to make it stands out not just as a flagship device, but also for what it stands for (with respect to its amazing specs).
Some of the internal specs of the new flagship device include a 6.20inches display (with a resolution pinned at 1440X3200), the latest Samsung processor- Samsun Exynos990 (features 2 cores clocked at 2.73GHz, 2 cores clocked at 2.5GHz and 4 cores clocked at 2GHz.). It comes with 12GB RAM, 128 GB Hard drive storage, latest Android OS- Android 10, and a 4000 mAh battery to power the entire operation.
The smartphone features an amazing camera system; a 10X zoom capability is one of the highlights of the camera feature. The device hosts a 10MP front camera, and triple camera set consisting of 12-megapixel (f/1.8) + 64-megapixel (f/2.0) + 12-megapixel (f/2.2). There is also a dual-LED flashlight alongside an auto-focus sensor making the entire camera frame a lot attractive.
| Camera | S20 | S20 Plus | S20 Ultra |
| --- | --- | --- | --- |
| Ultra-Wide | 12MP, 120˚, F2.2 | 12 MP, 120˚, F2.2 | 12 MP, 120˚, F2.2 |
| Wide | 12MP, 79˚, F1.8 | 12MP, 79˚, F1.8 | 108MP, 79˚, F1.8 |
| Telephoto | 64 MP, 76˚, F2.0 | 64MP, 76˚, F2.0 | 48MP, 24˚, F3.5 |
| Hybrid Optic Zoom | 3X | 3X | 10X |
| Super Res Zoom | 30X | 30X | 100X |
| Depth of Field | None | Yes | Yes |
| Selfie | 10MP, 80˚, F2.2 | 10MP, 80˚, F2.2 | 40MP, 80˚, F2.2 |
The variant versions of the S20- S20+ and S20 Ultra comes with extra features though; the S20+ for instance– apart from its bigger size due to the 6.7-inches size–  adds mmWave and better cameras. And finally, the S20 Ultra is unabashedly huge at 6.9 inches, with a camera system that's as big and complex as nearly any other you can find on a phone.
Having stated the obvious, let's dive deeper into the special or better still, custom features of the device. Let me first intrigue you with the fact that all the devices come with an OLED HDR+ display that supports a 120Hz refresh rate. Interestingly, Samsung affirmed that users will be able to dynamically adjust that rate depending on what the screen is doing.
For those that understand what benefit the new devices are offering in that aspect, you do simply realize that it's just a switch between 60Hz and 120Hz. The company also confirmed to a reliable source that setting it to a higher rate would only cause a 10 percent dip in battery life.
Some of the other new features that make the S20 an actual next-gen device is the claime that it shoots on 8K video. Although this may no pal on the level of actual cameras, however, it is a good way to portray the amazing high-resolution that the devices are capable of.
Also, the devices offer two new ways to share files: over Wi-Fi Direct to other Galaxy phones or via a temporary 24-hour download link for anybody. Two of these features comes as default on all three devices.
There is also the traditional Bluetooth feature, although with a complex functionality this time around; "If you have your phone paired to a Bluetooth speaker or device like your car, and somebody else wants to play music on it, you can set your Galaxy S20 as a kind of bridge. The other person will pair to your phone over Bluetooth, then use Wi-Fi Direct to stream to what your phone is paired to." a reliable source explained.
Another interesting feature to expect from the S20 lineup is the Google Live Caption feature. As a matter of fact, the new S20 flagship will be the first non-pixel phone to gain that option. The feature basically transcribes and captions videos in real-time with excellent accuracy, according to a source that had a hands-on review with the new devices.
According to theverge, Live Caption isn't the only way Samsung and Google have deepened their partnership with the Galaxy S20. Google Duo, the video chat app, also gets prominent placement on the new phones and is integrated right into the dialer.
"Duo's video quality maxes out at 720p, but Google says the S20 is the first phone that will do 1080p video calls. Samsung says this is made possible by 5G, as is the ability to upload 8K videos from your Galaxy S20 directly to YouTube over a 5G cellular network connection." theverge wrote on its page.
One feature, I, however, didn't see on the device is the recently launched Pixel's Recorder app, although it was expected to debut on Samsung's latest phones; hopefully we will get to see it in the days to come. For now, Recorder remains a Pixel exclusive feature.
If you have laid hands on the device yet, please do drop a comment on your thoughts about the device below.