WhatsApp keeps getting better at every chance it gets via new updates, and the latest one is not any less of a great job either
With the new update on the Facebook-owned messaging app, users will now be able to share their respective stories to the Facebook main app story feature. While the new feature first appeared in a beta test about three months ago, the social media giant is finally rolling it out to users starting from yesterday, 20th of September.
Although WhatsApp is yet to make any official statement about the new feature, several users who have got the new update has taken to the various social media platform, especially Twitter to share their respective experience using the new feature, and as you would expect, it's a lot of great comment in the air.
That been said, WhatsApp, in line with the latest development, has added to it FAQ page the various steps to follow in order to use the new feature- sharing stories to the Facebook main app. WhatsApp through the FAQ also suggested that a global rollout for the new feature should commence soon, which is most-likely ongoing.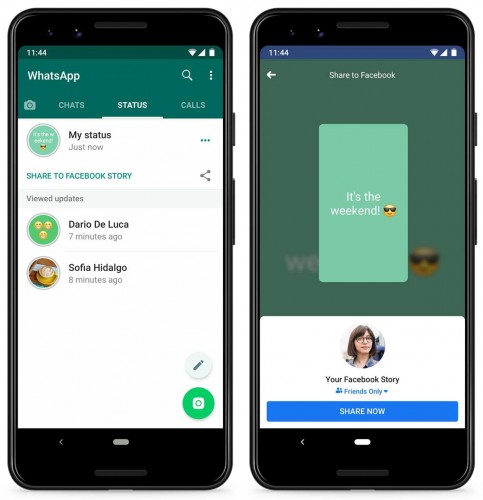 If you have noticed the update yet, then you probably get to see a new setup as seen in the image above. There, above the story timeline, you do get to see a note that suggests that; "Share to facebook story"- If clicked, you will get to see other options as seen in the image below, after which you then click on Facebook, assuming that is your preferred choice.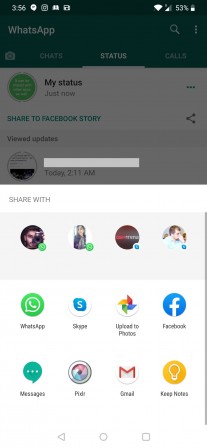 If after you have selected Facebook, then your post will automatically be seen on Facebook's story as well, assuming you are connected to the main app. Additionally, if you've posted multiple status updates, then all of them will be shared with Facebook Story.
Otherwise, if you want to share only a few of your WhatsApp stories, you will have to go to the "My status" section>> choose the ones you want to share>> tap on the three-dot button in the top-right corner>> then tap on the "Share to Facebook" option.
In the maintime if you have gotten the update already, please do share your experience in the comment section below.